*The display of a maximum of 10 photos OR one family-made video included in this fee
Booking a service
You can choose the time and day that suits you, with no additional charge for the use of our facilities in the evenings or at weekends; and by allowing you to book service times that fit perfectly with you and your chosen funeral director we can help make a difficult time a little less stressful for everyone.

Services can start at any time between 8am and 7pm Monday to Saturday (excluding public holidays) and between 11am and 2pm on Sundays.

Use our online diary to check whether your preferred service time is available. Funeral directors will book the service time for each of the families they are looking after, however, we also welcome and support families who wish to make all of the arrangements themselves.

Make a booking
Our stunning venue
The Ceremony Hall
This light-filled space with its soaring ceiling creates a sense of occasion without overwhelming. The fully glazed wall looking into the peaceful courtyard garden, combined with a muted palette of stone, creamy tiles and warm oak, contribute to a restful atmosphere, which is further enhanced by luxuriously-upholstered seating.

The facilities include 2 large screens for displaying images, videos, readings and song lyrics, plus the option to webcast the farewell to family or friends who are unable to attend. As well as a hearing induction loop facility, we have a height-adjustable lecturn - which is good for everyone, especially children and wheelchair users.

The Ceremony Hall has seating for 86 people and ample standing room for up to 25 additional mourners. If needed, the reception space can be used as an extension to the Ceremony Hall with mourners able to clearly see and hear what is happening thanks to the intelligent glass partition between these spaces.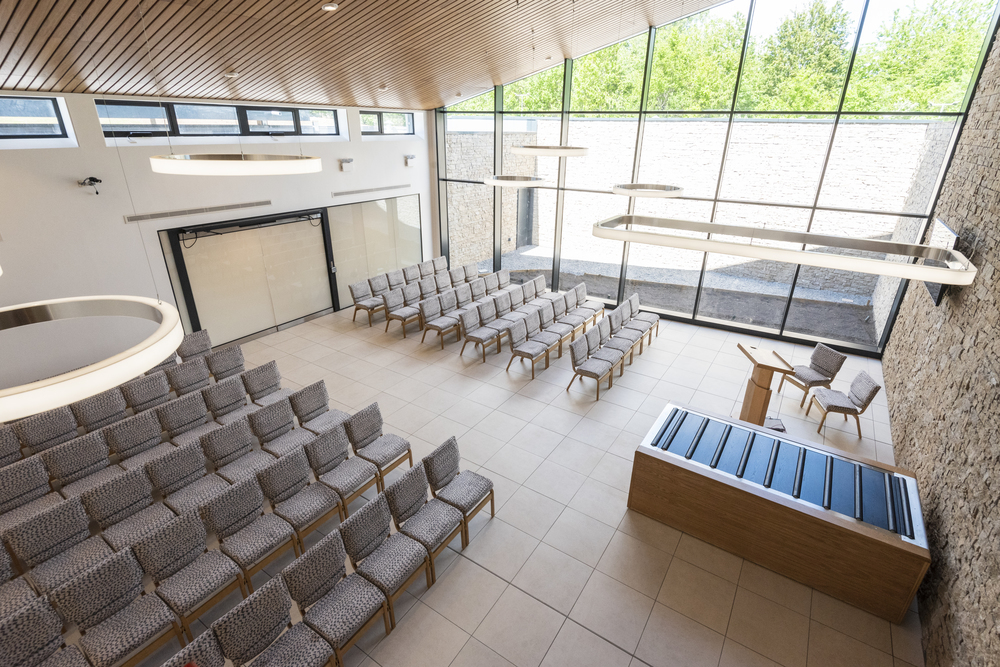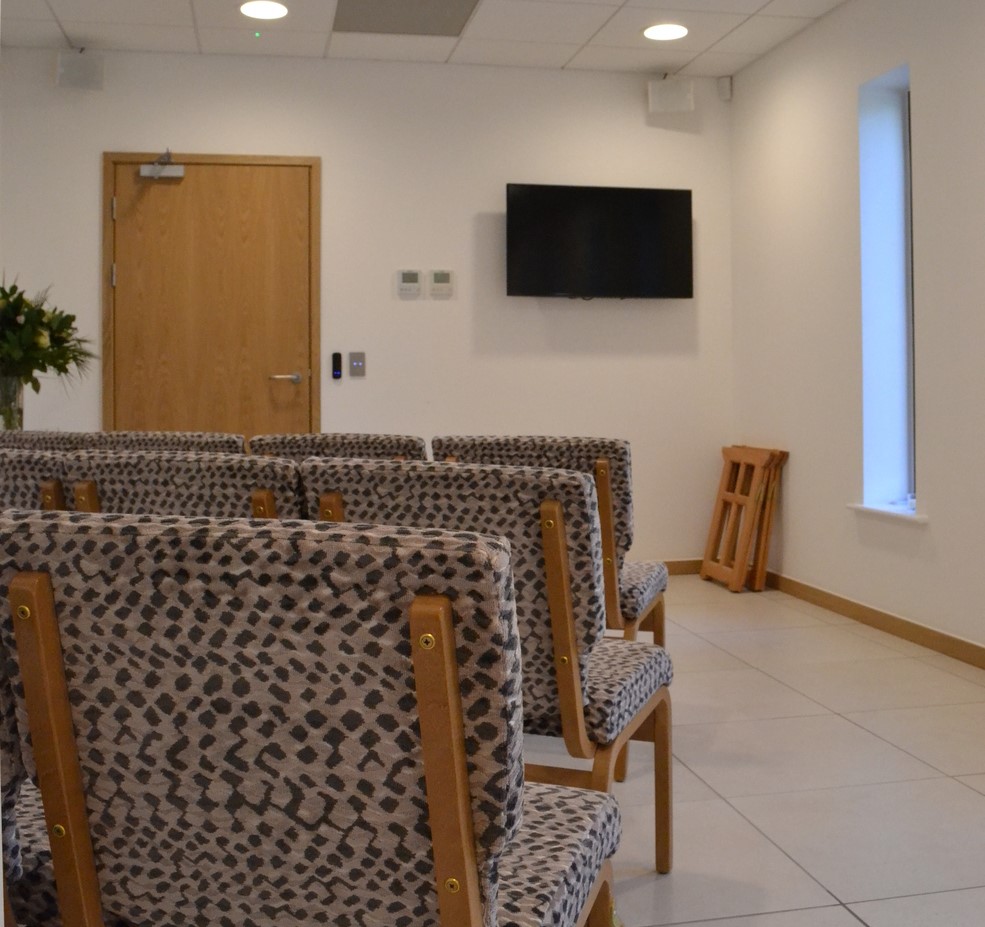 The Oak Room
This smaller space has been designed for intimate farewells with up to 12 mourners, yet it offers the same comfortable seating, music, digital tribute and even webcasting options as the main Ceremony Hall.

There are places to display photographs, mementoes, flowers and light candles. This room has lots of natural light, supplemented by dimmable lighting.
The Witness Room
Just behind the Ceremony Hall is a unique, private space for up to 12 people to gather and prepare to watch the coffin entering the cremator chamber itself. We have made sure that, whether this is a community tradition, a faith requirement or simply a personal choice, this experience is both dignified and comfortable.

Intelligent glass walls keep the room enclosed and separate until the witnesses are ready to proceed. At this moment the glass becomes clear, revealing the Cremator Hall and the coffin placed ready on the charging platform.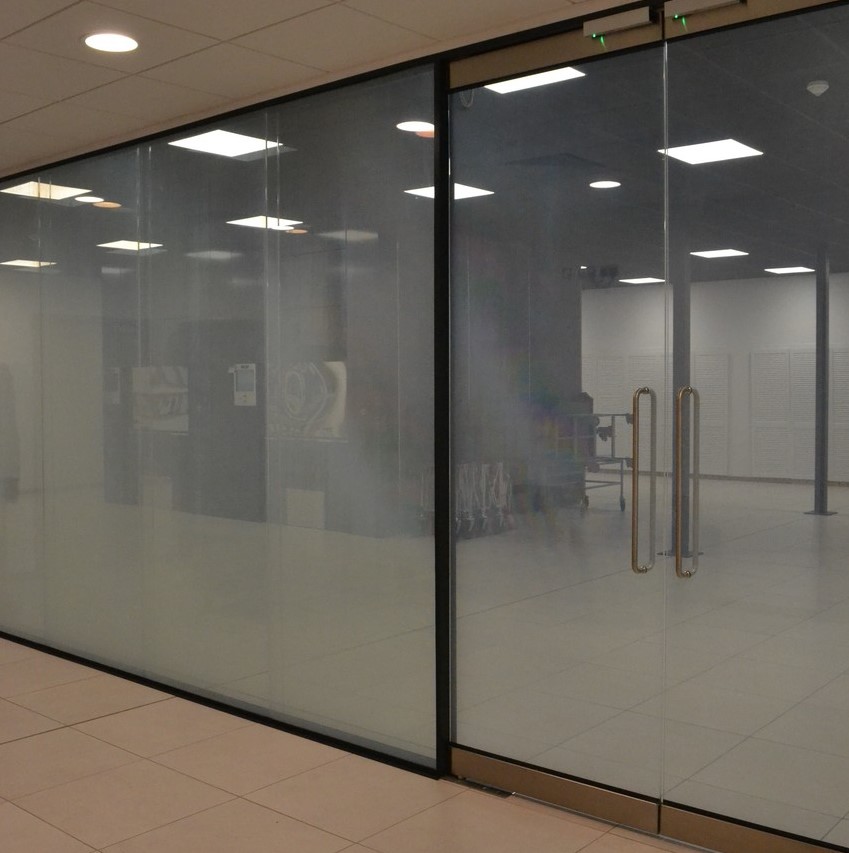 How we work
Complete peace of mind
Our many years' experience of caring for the bereaved has informed our approach and working methods. We are committed to giving each family total peace of mind and eliminating any secret anxiety about the care your loved one receives, the identity of the ashes that are returned and our impact on the planet.
Thoughtful technology
Every step of your loved one's journey is carefully recorded via a unique identifying code that allows us to record the time and staff member overseeing each transition - from arrival at Charlton Park to scattering or return of the ashes.

We have also adopted a simple but lovely idea from Europe - a ceramic token bearing the individual cremation number is placed on top of the coffin before it enters the cremation chamber. This token stays with your loved one after the cremation is complete and is visibly incorporated into the final presentation of the ashes in our modern, biodegradable container.
Environmentally aware
The cremation equipment that we have selected incorporates the latest filtration technology to ensure that particulates are removed by dust filters and any toxins such as mercury are removed with active carbon filtration. As a result, the air emitted from our chimneys is extremely clean.

Instead of using plastic urns we have chosen a new kind of container made from cellulose to ensure it is both robust AND biodegradable.

The way we consume energy is also considered - from the building's insulation and heat-recovery system to the timing of individual cremations to minimise the consumption of fossil fuels.
Download our latest brochure here
If you would like to find out more about Charlton Park Crematorium and our services, download our brochure for free by clicking the button below and filling out the simple form
Download Brochure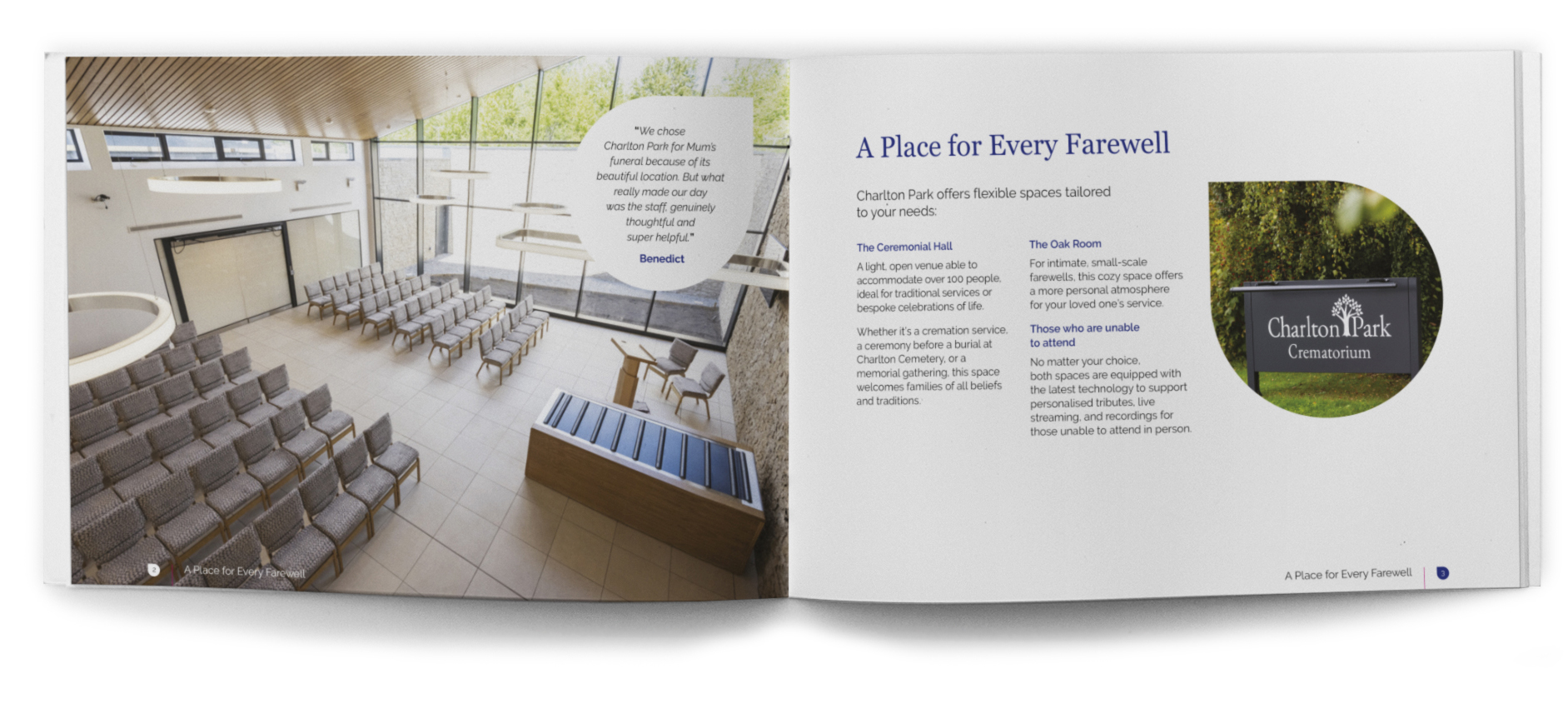 For Funeral Directors
Here at Charlton Park Crematorium, we aim to make service arrangements and the booking process as seamless as possible. All of our forms are available to download online from our "downloads" page. Once completed, all paperwork should be emailed or delivered to us at least 2 working days before the service is due to take place.

If you are a Funeral Director and would like to book a service for a family at Charlton Park Crematorium, please visit our Bookings page below and provide all the relevant details.

Make a booking